Project Management at Mack Global
Project Management is considered one of the most important functions to successfully deliver a project from concept to post start-up. Our project management team members have many years of technical experience which provides them with a solid foundation for decision making. The experience and technical knowledge allow our project managers to "ask the right questions, to the right resources, at the right time". We believe the strong technical backgrounds provide our experienced projects managers the ability to foresee potential risks which allows them to plan ahead for the best possible outcomes.
Our managers work closely with our customers to make sure they fully understand the current health of the project with respect to Safety, Quality, Schedule and Budget. Depending on project complexity and duration, our project managers work closely with our customers to establish key phases of the project. Critical milestones and project risks are identified early in the project. These risks are monitored and communicated on a frequent basis throughout the project.
How We Operate
We strive to gain a deep understanding of our customer's business needs and sense of urgency. Our governing values fuel us to implement your projects with the best possible outcomes.
We believe many projects can be implemented in 2 distinct phases: Front End Engineering and Detail Engineering. Front end engineering establishes the concept, definition and best value options to achieve the project objectives. We believe setting the project up for success at the beginning is the most critical phase of all.
Detail Engineering and Design is executed in a highly efficient manner when the Front End Engineering is completed with excellence. The "devil is in the detail" and our project managers' technical experience helps to drive out the details.
Our Project Controls team works closely with the project managers to establish and maintain the schedules, budgets and communicate project risks. Equipment procurement and expediting is communicated to our customers on a regular basis.
Scope Definition
Capital Estimating, and Forecasting
Scheduling and Monitoring
Cost Control and Trending
Scope and Change Management
Overall Risk Management
Project Close-Out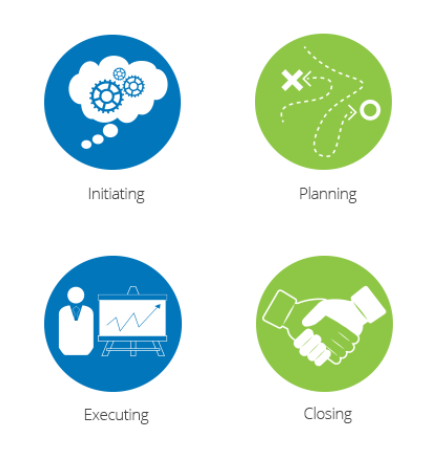 Initiating
Often viewed as the most critical phase of the project management life cycle, in the initiation phase we work to define the scope of the project and bring in the right resources to start the project off strong
Planning
In the second phase of the project life cycle,we work to establish the plans to be successful through the execution and closing phases of the project.
Executing, Monitoring & Controlling
With all the groundwork laid from our teams excellent planning, we now have you setup for success in the execution phase.
Closing
An often overlooked phase of project management,but not at Mack Global.